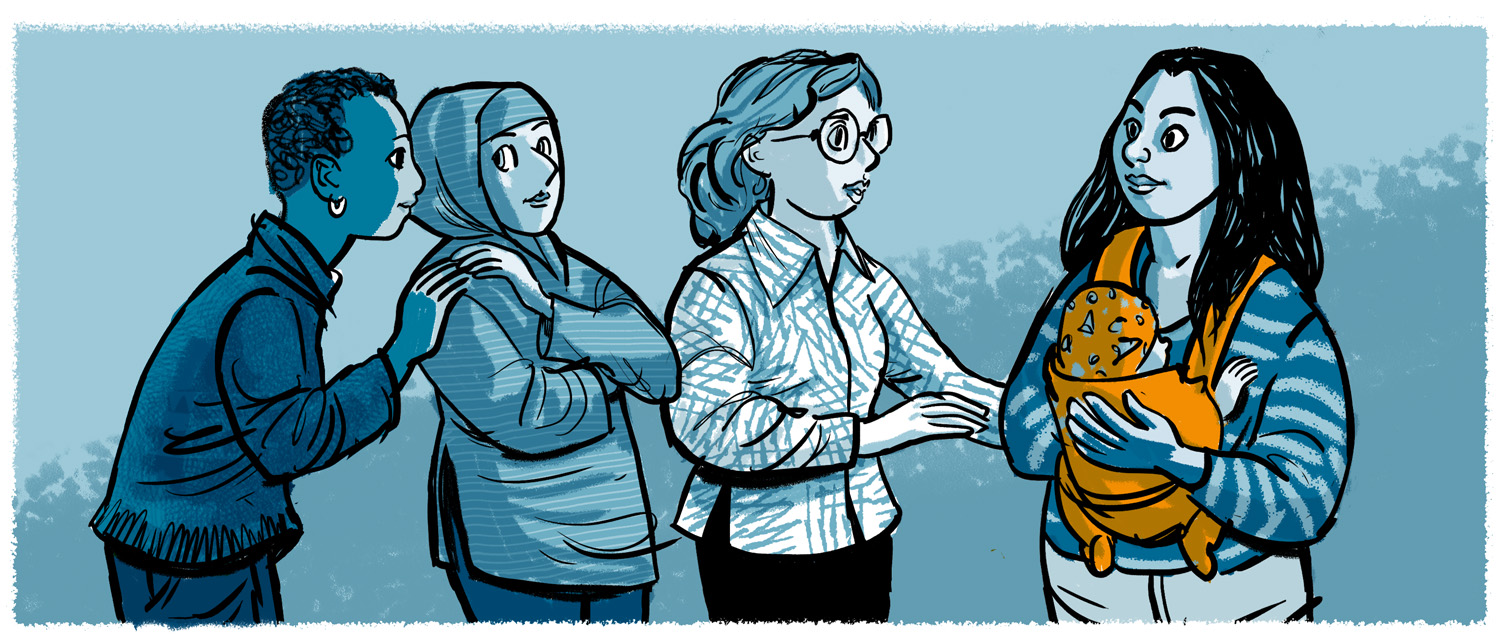 Women
Migration laws and policies often create barriers and inequalities for migrant women.
Women make up a significant number of migrants worldwide, but their realties and contributions are often overlooked.
Women who migrate for work are often confined to certain occupations that are characterised by low pay and poor working conditions and few rights and protections.
Women who migrate as part of a family unit or to re-join a partner or spouse often find themselves in situations of economic and legal dependence on their partner, because of prevailing policies frameworks.
For women who are or become undocumented, promoting their equality and rights takes second place to immigration enforcement priorities. This promotes discrimination and undermines their safety and wellbeing. When the needs of migrant women and girls are considered, it is often the lens of vulnerability and victimisation. Both approaches deny or undervalue the resilience, strength and voice of migrant women and girls who are vibrant and critical parts of Europe's fabric and future.
How do women become undocumented?
i) Lack of independent permit
The laws and policies governing entry, residence, and employment may put women at risk of becoming undocumented. Women often migrate a the dependent of a spouse, which tie their status to the relationship. This creates asymmetries of power that can be exploited by an abusive partner.
ii) Refused protection.
Women may also become undocumented following an unsuccessful claim for asylum. Women face many difficulties in the asylum system. Those fleeing gender-based violence face a particularly high refusal rate.
iii) Irregular entry.
Entering a country without the required documentation is another route through which women can become undocumented. Efforts to detect, arrest and deter irregular entry often ignore human rights and protection needs, and fail to address the systemic factors that lead people to migrate in this way.
PICUM's recommendations
Recognise the rights of all migrant women – as women, first and foremost
Women's access to services, protection and justice should be entirely delinked from immigration enforcement.
Migrant women should be granted an independent migration status, which is not tied to a spouse, partner, or employer.
Establish a better regulated EU labour market by creating more entry and stay opportunities for female migrant workers across skill levels and labour sectors.
Provide sufficient labour migration channels for women, and ensure they are provided with the same rights and protections as national workers.
Enforcement regulations and practices – apprehension, detention and deportation – must be assessed with regards to their impacts on women's rights and redress systematic and individual rights violations.
The use of immigration detention as a tool for immigration control should be reduced and ultimately ended in favour of non-custodial engagement-based approaches.