Last updated: February 2021
International and EU bodies have recommended addressing marginalised communities, including migrants in situations of vulnerability, in national vaccination strategies. In Europe, however, national approaches vary a lot.
For undocumented people, who are excluded from the health systems of most European countries, the pandemic and the lockdown measures have exacerbated pre-existing conditions of social exclusion and destitution. Several European countries, regions and cities adopted measures to support this population during the pandemic, including through targeted regularisation programmes. But what is being done with regards to the vaccination campaign, one of the most important tools we have to protect people against COVID-19?
We have been monitoring the news and exchanging with our members and followers, and we have compiled a map that shows which countries are explicitly including undocumented migrants in their vaccination strategies, and which ones are explicitly excluding them. Regardless of whether the strategies mention undocumented migrants or not, it's crucial to note that practical barriers to the vaccines exist in virtually all countries.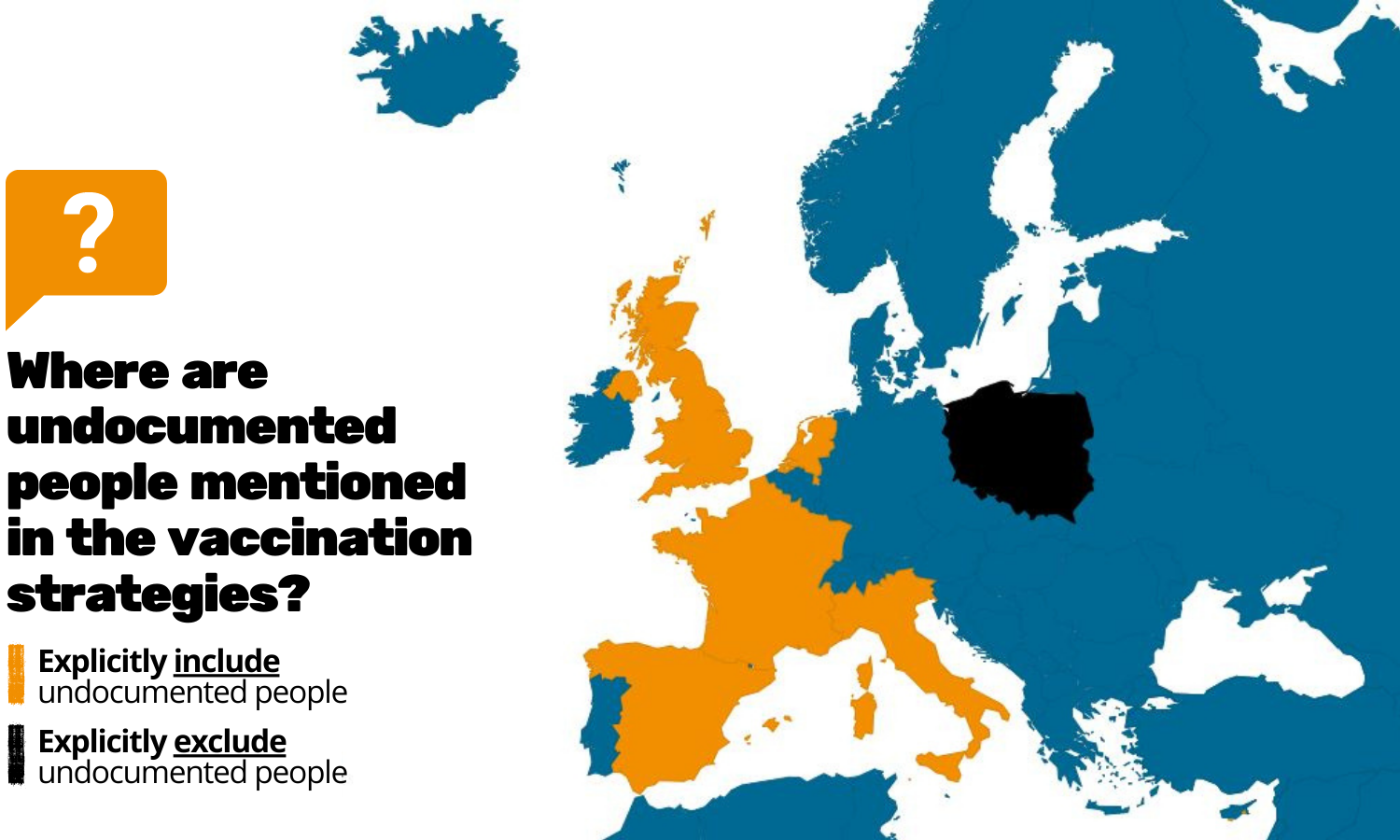 This map is based on information we've been able to gather so far, and we'll keep updating it as we know more. Here's a quick rundown of what we've learned:
Belgium
In Belgium, Brussels health minister Alain Maron said in early January that "It's out of question to exclude undocumented people from the vaccination process". Although this is a very welcome statement from a regional (Brussels) leader, it is unclear whether the federal vaccination strategy will consider undocumented migrants and address the practical challenges for the administration of the doses to this population, across Belgium's different regions.
France
The French health ministry has declared that the vaccines will be available to all people living in France, regardless of residence status. In practice, the vaccines will be free for all and no health insurance card will be required.
Italy
News outlet Wired Italy has reported that the Italian vaccination strategy doesn't address migrants, let alone undocumented migrants, as a target group. During an interview at the beginning of December, the Italian Commissioner on the COVID-19 crisis Domenico Arcuri declared that "It's important that everybody, unless they're here [in Italy] irregularly, gets vaccinated", which seems to imply that undocumented migrants wouldn't be included in the vaccination campaign. However, it is worth noting that under Italian law undocumented people too are entitled to access primary healthcare, including vaccines.
On 9 February, the Italian Medication Agency published an FAQ where it states that the vaccines will be available for anyone living in Italy, regardless of their residence status.
Netherlands
The Dutch strategy explicitly mentions undocumented migrants as a group to be vaccinated. But local civil society reports that so far very little has been done to practically implement this provision. The Rotterdam Undocumented Support Centre (ROS), for instance, declared "We regularly ask the [Amsterdam] municipality but we haven't got a response yet".
Poland
According to FAQs on the vaccines published on the Polish government's website, "Foreigners with the right to stay are vaccinated on the same terms as Polish citizens", which implies that people with irregular status wouldn't be included. Polish officials have further confirmed this on TV interviews.
Spain
According to the Spanish strategy, undocumented people are guaranteed equal access to the vaccines. But questions remain as to how public authorities will be able to reach this population.
United Kingdom
Government guidance states that the vaccines will be available for free for undocumented migrants, and no immigration check will be carried out in the context of the vaccination. But migrants rights groups say that practical barriers remain, including fears over fees and data sharing with immigration enforcement, because of the UK's longstanding "hostile environment" policy that has sown distrust and insecurity, as well as the refusal of some GPs to register patients because they can't provide certain information like proof of address, which isn't legally required.
Including undocumented people in national vaccination campaigns is essential to ensuring their success, and ultimately getting the pandemic under control. But measures limited to opening up access to the vaccine are not enough. The underlying factors that exclude undocumented people from accessing primary health care must be addressed – like burdensome administrative procedures, ineligibility for free or covered care, and exposure to immigration consequences for trying to access services.
Undocumented people are members of our communities, they are our neighbours, our friends. The pandemic has shown more clearly than ever that many work in situations of high risk that are too often undervalued – in care work, cleaning, agriculture. They have an equal right to be protected from this devastating pandemic. Ensuring access to health care for all is not only public health common sense, it is also and foremost the right thing to do.
Follow us on Twitter @PICUM_post to get the latest updates and share any information you may have!
Cover image: Adobe Stock – daniilvolkov