BUILDING ON COLLECTIVE STRENGTH TO OVERCOME CHALLENGES
By Elisabeth Schmidt-Hieber, PICUM Communications Officer.
Para leer la versión en español, por favor haga clic AQUI.
Pour lire le blog en français, cliquez ICI.
Meeting once per year,  PICUM's General Assembly is the main decision-making body of its network. Around 80 PICUM members came together in Brussels from 12 to 13 May to strategise and mobilise and agree on actions for PICUM to advance the rights of undocumented migrants.
Over the past year, the situation for irregular migrants has become increasingly difficult. The two-day programme started with PICUM members sharing their mixed feelings and emotions from the past year, ranging from moments of anger and despair to inspiration and happiness when positive changes were achieved.
Challenges and opportunities
The first panel brought together representatives of the EU Parliament and the Council of Europe with other key experts to discuss the persisting challenges and opportunities for PICUM in the coming years. Highlighting the increase in criminalising measures against undocumented migrants at the border and in communities across the EU, the panelists underlined how these measures overstate both the numbers of irregular migrants and the risks posed by migration
Increased control-based and criminalising measures 
There was a consensus that the EU policy is being developed with an increasingly narrow view of migration and without democratic oversight. Issues such as labour market requirements, worker rights, social inclusion, and policy shortcomings that push migrants into irregularity are rarely addressed.
Despite the lack of proof that detention and deportation are effective in reducing irregular migration, recent migration policies focus precisely on increasing these means. As member states are determined to achieve a watertight border control system despite a high human cost, the EU is entering a number of migration-control related agreements with neighbouring countries  where major abuse, torture and even killings of migrants have been documented.
Democratic procedures are increasingly sidelined with such agreements. The European Parliament has been excluded from decisions on migration and as bilateral agreements, such as the EU-Turkey deal, have no legal basis, the European Court of Justice has no competence to address concerns regarding its harmful impact on migrants' lives.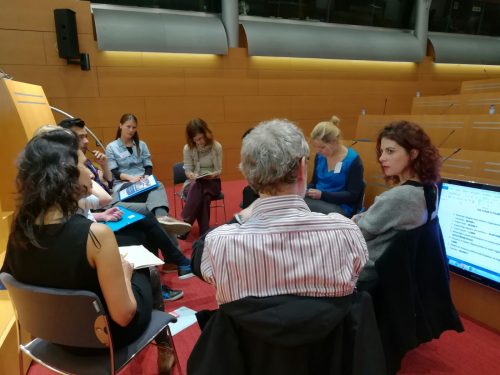 Role of civil society
Against this backdrop, civil society organisations assisting migrants are facing increasing harassment and criminalisation. When saving lives at sea, they are increasingly accused of creating a 'pull factor' for irregular migrants and supporting smugglers. With Europe's response to migration presented as trade-off between security or humanity, civil society are increasingly depicted in a disapproving, out of touch, and even harmful light.
Need for a 'firewall'
The permanent risk of getting arrested, detained and deported remains a key barrier for undocumented migrants to go see a doctor, send their children to school or report exploitation and abuse to the police and other authorities.
To address this issue, the European Commission against Racism and Intolerance (ECRI) of the Council of Europe has published guidelines for member states to address discrimination against undocumented migrants and guarantee their inclusion in essential services. General Policy Recommendation Number 16 calls on go
vernments to establish a 'firewall', a clear separation between access to services and justice for undocumented migrants and the enforcement of immigration law.
PICUM members share concerns and initiatives
PICUM members also had the opportunity to take the floor and host a workshop on a topic of their choice with other members. In addition to highlighting key challenges, members shared a number of positive examples from their work.
Areas of concern
Difficult access to emergency shelter and housing: This remains a challenge for undocumented migrants in many countries. At the example of the situation in the Netherlands, a group of PICUM members debated existing models to help undocumented migrants find housing and shelter.
Discrimination of migrant sex workers: Some members debated discrimination and criminalisation migrant sex workers face. They agreed on more joint collaboration and building relationships with migrant sex worker groups as well as to share knowledge and information on the particular vulnerabilities of migrant sex workers.
Limited political participation of migrants: Members reflected on how to better involve undocumented migrants in political debates concerning them. They discussed bottom up strategies and links to institutional mechanisms needed to develop migrants' political role with the aim to better include migrants in all relevant policy debates.
Increasingly restrictive policies in Spain: Spanish members are concerned about increasingly restrictive policies across areas including healthcare, employment, education and possibilities for residence status. However, there are several promising practices at regional level. Spanish members decided to work on empowerment of undocumented migrants and to raise awareness including media campaigns to inform about all migrants' right.
Promising initiatives
Challenging detention: In the UK, the group 'Freed Voices', including formerly detained migrants, speaks out against detention conditions. The project served as a model for a discussion on how to empower migrants to advocate for their rights in a hostile environment and to work jointly towards alternatives to detention.
Empowering young people to participate: Several PICUM members aim to engage and empower undocumented youth but they have to shift their focus often on major barriers in every-day life such as to access schools and get professional trainings or even struggle for survival. Members reported that engaging them through photography and videomaking has worked and that more channels should be used to make their voices heard.
Campaign to challenge the Dublin regulation: The Dublin regulation, establishing which member state of the EU is responsible to examine an application for international protection, has frequently been criticized by civil society. PICUM members discussed how the regulation risks to lead to more people becoming irregular and a campaign to end deportations to EU countries where migrants' rights are frequently violated.
What we can do as a network: A joint way forward
While many of our members face increasing obstacles including harassment and limited resources, PICUM's supporter base and network is constantly growing.
This growing supporter base is key for PICUM to effectively address challenges and to build on opportunities outlined at the General Assembly.
Promote safe reporting and safe access to services
PICUM will continue to promote the 'firewall' principle across thematic areas to ensure that undocumented migrants can seek help if needed and report exploitation and abuse to authorities without risking to be arrested.
Advocate to end the detention of children and explore alternatives to detention
We will advocate jointly with partners to end the detention of children and other vulnerable groups. We will also raise awareness of existing alternatives to detention and the need to make use of them.
Work towards more regular channels
Establishing regular and safe ways for migrants to come and work in Europe needs to be a priority to end the current harm and suffering. PICUM will work with relevant partners to promote schemes for migrants who meet labour demands in many crucial sectors.
Address criminalisation of assistance
We will continue to gather information and data on the extent to which citizens face charges and punishment for assisting irregular migrants in need. PICUM will confront policymakers with these realities to challenge criminalization of assistance.
Challenge discriminatory narratives
PICUM will continue to build on its 'Words Matter' initiatives to address discriminatory language and raise awareness of the impact discriminatory terminology has on perceptions and attitudes. This will also include partnerships with other groups advocating for ethical reporting.
Coming together with members at the General Assembly is always a truly inspiring experience. This year's debate has once again showed us what an enormous collective strength we have as a network. It is this collective strength that we can rely on to successfully and strategically address challenges moving forward.
To see more photos of the Annual General Assembly, click here. https://www.flickr.com/photos/56975027@N05/albums/72157681089592642
To watch videos of speakers' input at the General Assembly, click here. https://www.youtube.com/channel/UCz8y3_zE2esVzy3NuHUxgxA